Only less than 3 weeks left, an anime series of Summer 2022 will officially be broadcast. The competition for both rankings and views will also begin again from the comeback anime to the new anime that first appeared. So which is the new anime worth watching this season?
10. Isekai Ojisan – My Uncle In Another World
Genre: Comedy, Fantasy
Airing time: July 6, 2022
17 years ago, Takafumi's uncle Otaku was in a coma, but now he has returned as a man raised from his grave. Soon after, Takafumi discovers two strange things: His uncle values ​​video games above all else and while in a coma, he is transported to another world as a hero! Now, not only does Takafumi have to share a room with a literally magical uncle, but he also has to make him trace almost two decades of history — smartphones, high-speed internet, comic books. & modern anime… 
9. Kumichou Musume to Sewagakari
Genre: Comedy, Casual
Airing time: July 7, 2022
Kirishima Tooru is a vicious yakuza, to the point of being nicknamed the "Demon Sakuragi". In order to control this guy, the boss gave him a sudden task, which is to babysit for his daughter! 
8. Tokyo Mew Mew New
Genre: Comedy, Fantasy, Romance, Science Fiction
Airing time: July 6, 2022
The story revolves around 5 girls who accidentally carry the DNA of endangered creatures, so they have the ability to transform into superhuman form "Mew Mew". The mission of the Mew Mew group – led by Momomiya Ichigo – is to protect the Earth from the invasion of aliens.
7. Engage Kiss
Genre: Comedy, Romance
Airing time: July 3, 2022
The film is set in the city of Baylong, an artificial city established in the Pacific Ocean to exploit the local natural resources. The story revolves around three characters. The first is Shu, who runs a small company, due to his profligate spending habits, he is constantly penniless. A girl named Kisara often comes to Shu's office and is always worried about him. Kisara attended a high school in Baylong city, and can confidently do everything from office work to household chores. Meanwhile, Ayano is Shu's ex-girlfriend and former colleague in the company that Shu used to work for.
6. Kinsou no Vermeil: Gakeppuchi Majutsushi wa Saikyou no Yakusai to Mahou Sekai wo Tsukisusumu
Genre: Fantasy
Airing time: July 5, 2022
The film revolves around Alto Goldfield, a student at a magic academy who aspires to become a master of all magic. However, when he was about to fail his summoning magic class and was in danger of repeating it for another year, he found an ancient summoning magic book. Following its instructions, he created a magic circle and then summoned an extremely powerful demon named Vermeil, the girl who had been sealed away long ago, and made her a confidant. mine. However, the voluptuous Vermeil often demanded magical energy from Alto, who she declared by kissing him deeply.
5. Isekai Meikyuu de Harem wo
Genre: Action, Adventure, Fantasy, Romance, Ecchi
Airing time: July 2022
The story revolves around high school student Michio Kaga. Wandering aimlessly through life and the internet, he is accidentally transported from a shady web to a fantasy world – reincarnated as a powerful man who can use "cheat" powers. . Michio uses her powers to become an adventurer, earn money and have the right to ask beautiful young girls to join her own harem.
4. Tensei Kenja no Isekai Life: Dai-2 no Shokugyou wo Ete, Sekai Saikyou ni Narimashita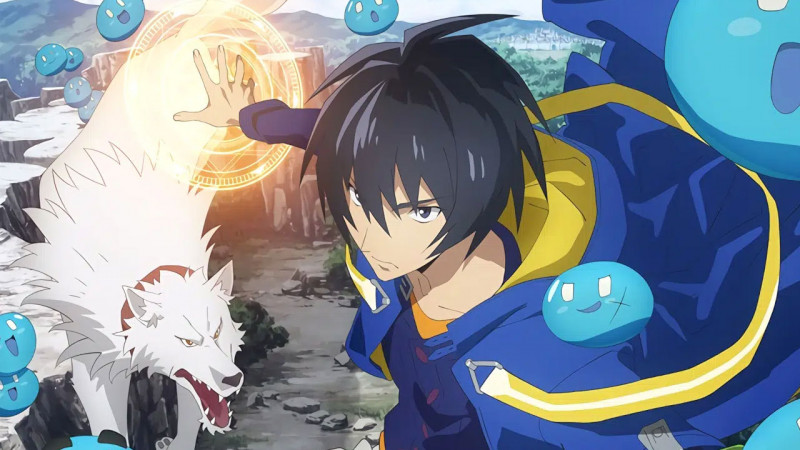 Genre: Action, Adventure, Fantasy
Airing time: July 4, 2022
The story revolves around Yuuji Sano, a person who works at a company with an attitude of "making it difficult" for his employees. After having to bring his part-time job home, he received a message on his computer: "You have been summoned to an alternate world!". It's a game-like world, complete with status bars and skills. Yuuji raised a slime monster and became a tamer. Then he suddenly got a second profession – the sage – and awakened magical powers within himself. Yuuji's alternate world adventure begins when he follows a slime, seemingly the weakest of all the monsters.
3. Mamahaha no Tsurego ga Motokano datta
Genre: Comedy, Romance
Airing time: July 6, 2022
Irido Mizuto and Ayai Yume dated in middle school. However, because of disagreement over petty things, the two decided to part ways on graduation day. Thinking that everything was over, Mizuto soon learned that the stepmother his father was about to remarry was Yume's mother. Because of that, Mizuto and Yume became nominally brothers. In order to keep their previous relationship with their parents a secret, the two set up a "sibling rule", which states that whoever confesses first will be the loser.
2. Soredemo Ayumu wa Yosetekuru
Genre: Comedy, Casual
Airing time: July 8, 2022
Ayumu loves her senpai Yaotome, but she has vowed not to confess her feelings until he can beat her at the board game shogi… The problem is that her love is obvious to Yaotome and her Can't stop lying to him, breaking my oath! The anime promises to steal the hearts of fans of Don't Toy With Me, Miss Nagatoro, Komi Can't Communicate, and Shikimori's Not Just a Cutie!
1. Yofukashi no Uta
Genre: Romance, Supernatural
Airing time: July 8, 2022
Nanakusa is a vampire, and Ko is just an ordinary human. He suffers from insomnia, which makes him want to be one of them. But transformation doesn't come so easily…
When the two met by chance, Nanakusa "invited" him to her residence in an abandoned building. The humorous but equally romantic love story of two individuals from two different worlds begins here.